Control Army is a strategy game released by developer ShkatulkaGames on the Roblox platform. In the game, you will assemble and lead an army of many warriors to collect materials, build bases and develop your army. As you progress in the game, you have the opportunity to explore more new areas and earn more upgrades.
By using the Control Army codes provided by GamePlayPlan, you can exchange for gold, potions, ancient shards and many exclusive items. From these, you can buy weapons, armor, equipment, bags, etc. for your soldiers, increase the size of your army, and fight your enemies easily to win matches.
Summary About Control Army
| | |
| --- | --- |
| Name | Control Army |
| Developer by | ShkatulkaGames |
| Game genre | Strategy |
| Compatible with | Android 5.0 and up, iOS 10.0 or later |
| Price | Free |
List of Control Army codes (December 2023)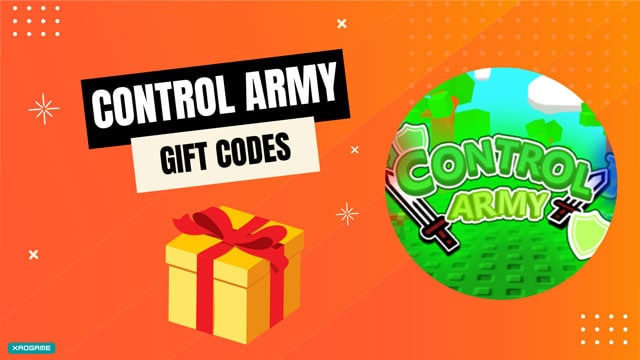 With this list of Control Army codes, you can have on hand all the gold you might need to build a strong base and recruit a powerful army. Here is all the Control Army code in action:
100kFavs – Redeem code for free rewards (NEW)
turkomer01k – Redeem code for an Ancient Fragment and 4 Potions
HappyValentine – Redeem code for a Healer Barrack
100klikes – Redeem code for 2x Ancient Fragments and 2 Potions
Alvin100B – Redeem code for 1x Ancient Fragment and 2 Potions
castle – Redeem code for an Ancient Fragment
MagicForest – Redeem code for Fairy Wings, Gnome Hat, and more rewards
Patryk10B – Redeem code for free rewards
forgotten – Redeem code for an Ancient Fragment, Ectoplasm, and Sand
10k – Redeem code for Barrack XP Boost
Mushrooms – Redeem code for Free Gold
20kLikes – Redeem code for free +100% Gold Potions
MerryChristmas – Redeem code for Free Gold
Mountshop – Redeem code for 1,500 Gold
Sands – Redeem code for 2,000 Gold
Underwater – Redeem code for 2,500 Gold
Release – Redeem code for 250 Gold
Hello – Redeem code for 500 Gold
Waterfall – Redeem code for 1,000 Gold
We will update you with new, additional Control Army codes to this list as soon as they are published. For that, you should follow us by pressing CTRL + D on your keyboard or using the Add to Bookmarks button on mobile so you don't miss any new codes.
Also, you should redeem these as soon as possible because you never know when they might expire! Before posting these codes, we had to test it working or not. If you find an expired code, please let us know the exact code in the comments below so we can remove it!
What are the Control Army codes?
The Control Army code is a string of characters consisting of letters, numbers, and possibly a few special characters. The sort order of Control Army codes can be random or follow a certain rule. These codes will have a distinction between lowercase and uppercase letters, so when entering codes to redeem rewards, you need to pay attention to this.
The Control Army Code is a free gift issued by ShkatulkaGames to help you on your amazing journey. These codes offer great rewards like gold, potions, ancient shards and more, they are perfect to help you start your next adventure smoothly.
How to redeem code in Control Army?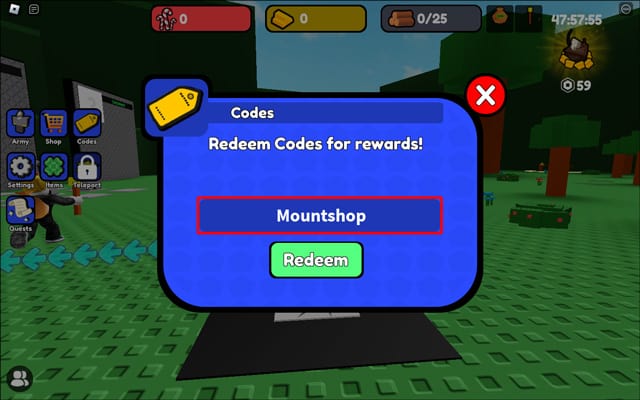 If you are not sure how to redeem the code in Control Army, you can refer to the following guide:
Step 1: First, select the game "Control Army" in the Roblox homepage interface.
Step 2: Click the Codes button that appears next to the game interface.
Step 3: Enter the Control Army code or copy the code from our list into the text entry.
Step 4: Press the Redeem button to claim your reward.
The reward will be sent to your account immediately. Take advantage of it to build a powerful army for yourself! If it's a brand new code that doesn't work, try exiting the game and opening it again. This will put you on a new server, which may have an updated game build where the code will work!
How to get more Control Army codes?
The first way that saogame wants to share with you to get more Control Army codes is to follow the official social media accounts of the game developer or the game itself. They may release codes on special occasions, such as holidays or game milestones.
You can start by joining the Control Army Club Roblox Team. For more opportunities to spot the latest codes, follow @Shkatulkahero on Twitter and become part of the Control Army Discord Server.
Developer ShkatulkaGames often publishes new gift codes on special occasions like milestones, festivals, partnerships and special events. After being published, Control Army Codes are announced on social networking sites such as Facebook, Instagram, Twitter, Reddit. You can also join the official Discord server or game-related community forums where players regularly share and exchange codes with each other.
In addition, you can get more Control Army gift codes at GamePlayPlan.com: GamePlayPlan is a website specializing in aggregating and providing codes, gift codes and promotion codes of many hot games today. In which indispensable games on Android and iOS platforms. You can follow this website to get the latest codes, because we always update new codes daily.
Information about Control Army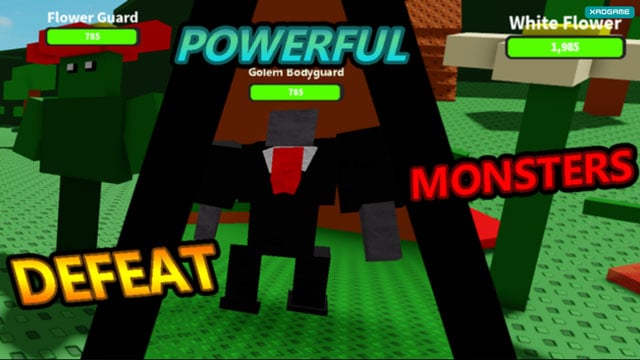 Control Army is a crafting and collecting simulator with a medieval army theme along with some PvE battles. You'll share an area with up to four other players, but no PvP. This is really a clicker game, as you won't get any resources or gold if you AFK. And any lost troops will be returned to you after battles with no loss of resources.
The game will put you in the shoes of a king or general. You will have to build your castle and army before you set out to fight the monsters that roam the world. Your mission is to expand the kingdom, build bigger and bigger strongholds and eventually huge armies. To do so, you will need to gather resources and equipment in the form of weapons and armor.
You will start the game with a small army and your task is to command them to fight the elves and collect resources by chopping wood and digging stones. Although the beginning of the game will be tough, before long you can build new fortresses and accumulate armies as you expand your kingdom, battle new monsters and claim pages. be new.
To earn money and advance quickly in the Control Army, you must defeat a lot of monsters. You don't have to constantly return to your base to empty your bags and sell your resources. Also when defeating monsters, they can drop rare items like Golem Bow.
First, you take an archer as quickly as possible. Next, get armor for your first army as it will act as your tank, taking hits from the monsters. Also, improve your own engine so you do more damage. When you attack now, your tank takes damage while you and the archer step back and deal ranged damage.
Conclude
Above are all the latest and working Control Army codes that we synthesize and share for you. If you find any of our codes that don't work or are missing, please let us know in the comments so we can add them right away!