Peak Drift is the most intensive and intuitive drifting game released by developer Takeover Studios on the Roblox platform. In the game, you will experience driving around to perform Drifts and participate in many races organized around the world. Choose your location, then choose to buy a car and customize it with paint colors, spoilers, wheels, and more.
Using the Peak Drift Codes on the list below will give you free in-game credits to spend on your car. In addition, GamePlayPlan will also show you how to redeem codes in Peak Drift and how to get new Peak Drift Codes.
Summary about about Peak Drift
| | |
| --- | --- |
| Name | Peak Drift |
| Developer by | Takeover Studios |
| Game genre | Racing |
| Compatible with | Android 5.0 and up, iOS 10.0 or later |
| Price | Free |
| Get it on | Roblox |
List of Peak Drift Codes (December 2023)
Drive around a world built to drift, buy and customize your car just the way you want it, and race against other players at breakneck speed. Of course, faster speed is a great thing, but that's not always the case for you. There are many other things to upgrade to keep your car balanced.
PD3M – Redeem for 5K in-game credit (New)
FIX – Redeem for 5K in-game credit
PD500K – Redeem for 5K in-game credit
THXGIVING – Redeem for 10K in-game credit
PD10K – Redeem for 5K in-game credit
PD100K – Redeem for 5k in-game credit
RELEASE – Redeem for 50K in-game credit
Peak Drift Codes give you some instant cash, which can then be used to buy faster cars and more exotic customizations with bumpers, spoilers, or anything else that you need to make that car your own.
However, you shouldn't buy a new car right away. Test drive the first free car, the Nissen S15, to understand how the game works first. Once you've accumulated some experience, you can easily buy a better car, such as a classic Nissen 350Z or R32. Money comes with speed and drift in the car, so the more you practice, the more money you will have to spend!
In addition, GamePlayPlan will update daily with new Peak Drift Codes to add to this list as soon as they are published. For that, you should follow us by pressing CTRL + D on your keyboard or using the "Add to Bookmarks" button on mobile so you don't miss any new codes.
What are Peak Drift Codes?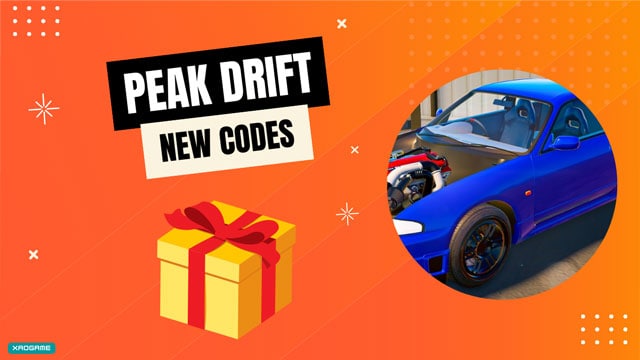 Peak Drift Codes are alphanumeric characters that are arranged together to form gift codes that you can exchange for a certain amount of money in Peak Drift. These codes will have a distinction between uppercase and lowercase letters, so when entering the code, you should pay attention to enter exactly according to the list that we have compiled above.
Peak Drift Codes is released for free by developer Takeover Studios to pay tribute to longtime players and help new players to add a little more finance to buy a new car or upgrade their car. So they are very useful to you and you should not ignore this.
However, Peak Drift tokens will have a certain shelf life specified by the developer from the moment they are released. However, we will not be able to know when they will expire. So, as soon as you receive these codes, you should log into the game and use them as soon as possible.
Before posting the Peak Drift codes to the list above, we had to check if it worked or not. If you find an expired code, please let us know the exact code in the comments section below so we can remove it or update other players with new codes in time.
How to redeem code in Peak Drift?
Peak Drift has a redemption center right in the game's interface, so you won't need to visit any external redemption sites. How to change the code in Peak Drift is not difficult to do, if you are not sure how to change the code, you can refer to the following instructions.
Step 1: Launch Roblox and open the game "Peak Drift" on your device.
Step 2: Press the Shop button ($) at the bottom left of the screen
Step 3: A window will pop up, in the text box section you click the Insert code here… box at the bottom and enter the code exactly as it appears in the list above.
Step 4: Hit the green "REQUEST" button that appears on the side of the text box to claim your reward!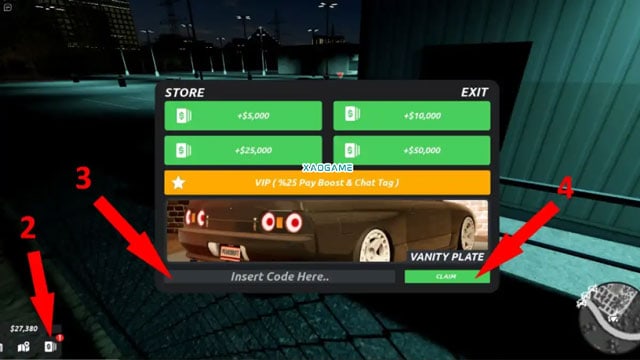 If during the implementation process, you encounter any errors, please leave your question in the comment section below, we will help you answer. Also, if our Peak Drift codes don't work, please let us know so we can update the list.
How to get more Peak Drift Codes?
Developer Takeover Studios often publishes new Peak Drift Codes on special occasions such as milestones, festivals, partnerships and special events, game milestones. Once published, Peak Drift Codes will be announced on social media or developer websites.
If you're looking for some extra money to spend in Peak Drift, there are several options that are right for you. First, you can join the Takeover Studios Roblox Group via the link: https://www.roblox.com/groups/5288525/Takeover-Studios#!/about. You can also follow the Twitter account with the username @PeakdriftRBLX or become a member of the Discord channel: https://discord.gg/HxGmTRg4vx.
These are all reputable means of getting your new Peak Drift codes. However, you won't be able to find many codes in these channels. The best way for you to get new Peak Drift Codes quickly is to follow GamePlayPlan.com: GamePlayPlan is a website specializing in aggregating and providing codes, gift codes and promo codes of many hot games today. on Android, iOS and Roblox platforms. You can follow this website to get the latest codes, because we always update new codes daily.
Why doesn't the Peak Drift code work?
This is a common problem many players face when redeeming codes in Peak Drift. First, if you get this error, try checking the spelling to see if you have entered it correctly. It's best to copy and paste the code from the (In Action) section above into the game to minimize the possibility of errors.
Next, some Peak Drift codes are only available to new players and not available to older players. The last reason is because the code is not working because it has expired. This is really inconvenient for you but check back here soon for more code.
Information about Peak Drift
"Peak Drift" is a racing game on the Roblox platform that allows you to drift down a mountain while racing against other players. The game features a variety of cars, tracks, and customization options, as well as in-game currency that can be earned through racing to unlock more items. The game also includes a multiplayer mode where you can compete against each other online. It was created by the Peak Precision Studios development team and is free to play on the Roblox platform.
Driving around different maps gives you extra money to spend to customize their cars and buy new cars. There's no definitive race in Peak Drift — instead, you need to collaborate in the server to try it out. For some maps where the loop is clearly defined, races are impromptu work that happens when two riders find themselves side by side
Conclude
Through this article, GamePlayPlan hopes you will be able to buy a new car or upgrade parts on your car to have spectacular Drifts and compete with other racers. Please regularly visit GamePlayPlan to not miss the opportunity to receive rewards and useful items of Peak Drift.