Arena Breakout is an Action game developed by Level Infinite. You'll be immersed in an authentic shooter experience set in a gritty and gritty futuristic city. Arena Breakout promises to deliver thrilling gunplay and nail biting mechanics just like you'd expect.
In addition to experiencing dramatic battles, you will also receive many rewards from the developer, including Arena Breakout Codes. With these gift codes you can progress faster in the game. And in this article, GamePlayPlan will summarize for you all active Arena Breakout Codes. At the same time, GamePlayPlan also show you how to redeem the code and how to get more Arena Breakout gift codes.
Summary about Arena Breakout
| | |
| --- | --- |
| Name | Arena Breakout |
| Developer by | Level Infinite |
| Game genre | Adventure |
| Compatible with | Android 5.0 and up, iOS 9.0 or later |
| Price | Free |
| Get it on | Google Play |
About Arena Breakout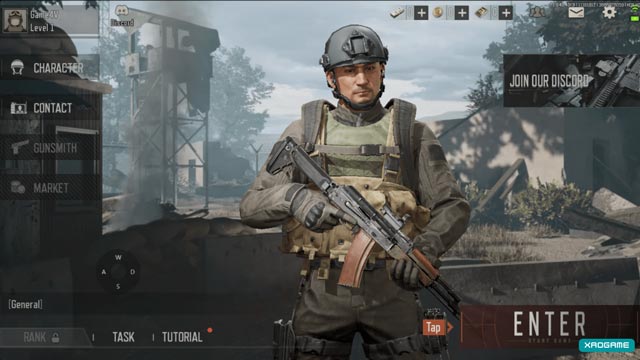 Arena Breakout is more than just a loot shooter. Survival is not just about firing bullets, you also have to fight hunger, stop bleeding and treat injured limbs. Eliminate enemies head-on, either with stealth or by ignoring bullets altogether. Players have the freedom to fight however they want. Survive escape from battle zone for chance to get rich, but be ready to fight for survival.
Shoot, loot and raid to win. Combine gunner skills with stealth to take down your target and claim the full set of loot for yourself. Be the last survivor on the Arena Breakout battlefield. Move quickly, hide and pull the trigger. Survival is the only way to win. The advanced Gunsmith system allows for 700 customizations of parts and components in 10 slots, helping to create weapons unique to the battlefield.
Arena Breakout's enduring characters and action-packed gameplay make it the game you'll want to play weekly, monthly, and yearly. Enter the vast arena to pick up items and collect awesome loot to upgrade your character. Whatever you pick up is yours forever — the hard part is getting it home before someone puts the cross on you!
List of Arena Breakout Codes (November 2023)
To save you time searching for Arena Breakout Codes, we've put together all the active codes in this list. With these codes, upgrading your equipment will become simpler. Here is a list of Arena Breakout Codes of (November 2023) compiled by GamePlayPlan:
With Arena Breakout Codes, you can redeem in the game's gift center for free coins, bonds, exclusive bundles, pain relievers, and other rewards. These are all extremely helpful for your progress in the game. Try to take advantage of this to create the most advanced guns.
However, there is one thing that you need to keep in mind that these codes will have a certain expiry date. If you don't want to miss the chance to get these rewards, you should quickly log into the game and enter Arena Breakout Codes into the game's redemption center immediately.
What are Arena Breakout Codes?
If you've played through many action and shooting games, then surely, you will no longer be strange about the concept of Arena Breakout Codes. However, if you are a new player or know Arena Breakout for the first time, you may find these codes very new. To better understand what Arena Breakout Codes are, follow the following concept.
Arena Breakout Codes are pieces of code, the character segment is assembled by many different characters that can include letters and numbers. These codes are generated by the game developer for players to enter into the game's redemption center and get free and valuable rewards.
Arena Breakout Codes have a case-sensitive distinction, so when entering them in the center of the game, you should enter the exact same spelling as in our list. Or you can also copy the codes and paste them in the "enter code" section to avoid typos. If you enter any wrong characters, you will not be able to redeem the reward.
The reward details of Arena Breakout Codes will be explained in detail at the back of the codes. You can see what Arena Breakout Codes will be redeemed for in-game rewards. However, you will not be able to know how long their shelf life is. Therefore, you should quickly log into the game and redeem Arena Breakout Codes as soon as you read this article.
How to redeem code in Arena Breakout?
A lucky thing for you is that Arena Breakout also has an in-game redemption center. Therefore, you can redeem the code easily in the game without having to visit any external redemption site. To redeem the code in Arena Breakout, you can do it with the following simple steps.
Step 1: Open the game, Tap on the Events button located on the right side of the screen.
Step 2: A new window will pop up, Click on the Third tab then tap on the Code Redemption button.
Step 3: Enter the Arena Breakout redemption codes provided above in the text area.
Step 4: Click on the GO button to immediately be rewarded in-game.
The reward will be sent to your mailbox in the game. To receive, you just need to go to your mailbox and click receive. If there are any codes that are not working or have expired, please let us know in the comments section below. We will remove it from the list, check back later for the new code!
How to get more Arena Breakout Codes?
Publisher Level Infinity has published some free gift codes that you can use to get some free rewards, making your journey smoother, easier from the start. Normally, these gift codes will be provided through Arena Breakout's social networking sites on platforms such as Twitter, Discord, Facebook, and Instagram.
Official website: https://arenabreakout.com/
Instagram: https://www.instagram.com/arenabreakoutglobal/
Twitter: https://twitter.com/Arena__Breakout
Youtube: https://www.youtube.com/@ArenaBreakout
Discord: https://discord.gg/arenabreakout
Facebook: https://www.facebook.com/ArenaBreakout
Twitch: https://www.twitch.tv/arenabreakoutmobile
Tiktok: https://tiktok.com/@arenabreakoutglobal
The best way for you to get more new Arena Breakout Codes fastest is to follow GamePlayPlan and visit this article regularly. Because we will be updating the Arena Breakout Codes list in this article every time a new code is released. In addition, you can also receive more gift codes of other games on GamePlayPlan.
Conclude
So you've got all the Arena Breakout Codes that are active for (November 2023), along with our guide on how to redeem the code and how to get more Arena Breakout Codes. In general, with Arena Breakout Codes, you can redeem a lot of rewards to advance quickly in the game. Remember to use these codes as soon as possible before they expire.