Airship Knights is one of the few anime-inspired gacha games released recently. You are a player of Airship Knights, that is great but if you want to compete with other players then you have to know how to build a strong squad. And first, that must start with the strongest heroes. You will find the best selection in our Airship Knights Tier List.
Airship Knights Tier List (December 2023)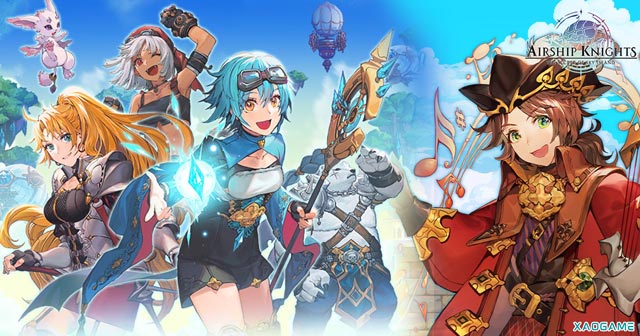 When you step on that plane, you will have to start a battle, and there will be idle battles that continue with each match lasting 10 seconds. A lot of monsters will be there appearing at that time and as you continue the game more, there you will also have to defeat the strongest enemies.
We know that you are looking for the best hero list to add to your squad. So GamePlayPlan wants to give you a detailed guide for it. Since you are now the airship captain from the island of clouds, you will have to make the most efficient decisions when playing your game and for that you need to know how the Airship Knights Tier List works.
GamePlayPlan will rank these characters from rank S (strongest) to level B (weakest). Normally, there would also be C and D tiers, but as of now all characters are quite strong and useful, to varying degrees. Before consulting the ranking, you should know that this is just the opinion of the majority, for reference only and you can completely trust it or not.
Tier S – these are undoubtedly the best, and all the players should give their whole attention to start the gameplay with these heroes since they are literally the best.
Tier A – and we have a good-ranking hero here, and they will be close to the S-tier strengths. Although they don't have the exact powers as the S tier, they will also make it to the top by having some superpowers to continue the gameplay.
Tier B – here, we are going to have decent heroes. It means that they have some middle-level of strengths, and they are either not good or bad. For some situations, these heroes will be doing the best for you, but please note that they don't have much value to the gameplay.
Tier C – the least skilled heroes will be ranked here, and they are not recommended for any player. Generally, it is wise to avoid these heroes because they don't have much capacity to handle the gameplay from a superior level.
In addition, there is a way to help you improve your skills and abilities quickly by using Airship Knights Codes. Try to redeem these codes as soon as possible to get diamonds, recruiting tickets, essences, metals, mana, and other exclusive items.
Airship Knights Tier List – Ranking
Let's see which heroes will be included in the Airship Knights Tier List:
Tier
Characters
S
Samantha
Fatima
Christine
Celine
Eleanor
Favian
A
Flora
Albi
Ludwig
Rashid
Miranda
Cnut
Ana
Favian
Sunwha
PQ
Victor
Celine
Drake
B
Dana
Jake
Yui
Ramses
May
Bao
Narin
Beatrice
Horang
Naul
Carlo
Dayden
Benjamin
Igor
Silvia
Bernardo
Laurent
Jacques
C
Maxim
Maurice
Seola
Aurelia
Maru
Gloria
Suwol
Wilbur
How to Reroll for Airship Knights Tier List?
The next thing you should find out whenever you're looking for a hero from the Airship Knights Tier List is how to do the Airship Knights rewind. Reroll is a process in the setup to earn your heroes, which may not be familiar to you if you are a beginner. So let us give you the steps for it as follows.
Step 1: Launch your game first
Step 2: Go through all the guide quests, eventually unlocking you to the royal recruit. You need to proceed with these guide quests to be able to go for this function.
Step 3: Use your diamonds here for the recruitment banners. If you have some Airship Knights codes, these will be useful as they allow you to earn some free diamonds.
Step 4: After you earn the diamonds, you can spend them on your recruitment banners. There will be several ranked knights to choose from, and we recommend you go for a top-tier ranked knight from the Airship Knights tier list. They are going to do the best in your gameplay than any other with greater strength.
Step 5: You can continue playing if you have earned your top-tier hero for the first time. But you can delete the data from your account if you don't.
Step 6: Then go for the game settings and head into the account tab.
Step 7: Delete data from there and enter its text.
Step 8: Confirm the deletion, and this will reset your game. So you can start a new gameplay account for a new reroll.
From now on, you can earn a top-rated hero to add to your squad. There will be random units granted; every time you are placed with the low-level knight you have to reset the data and start over. When we think about this procedure, it is an unpleasant process, and at the same time, it also takes a lot of time.
Conclude
That's all GamePlayPlan gives you from this Airship Knights Tier List guide and we hope you have a chance to get the best of it by consulting this guide. Tier S and Tier A heroes need to be on your top list in battles, and you'll know why if you check out this guide.