Honkai Star Rail is a combat role-playing game that takes place in a fantasy universe developed by HoYoverse. In this production, you'll board the Astral Fleet, experiencing dazzling magical wonders across the galaxy, with adventure and drama as the main rhythm throughout the journey. For players who are playing Honkai Star Rail, even you will want to know the Honkai Star Rail Codes, because they will provide some free resources to make your exploration of the Fantasy world easier.
Summary about of Honkai Star Rail
| | |
| --- | --- |
| Name | Honkai Star Rail |
| Developer by | HoYoverse |
| Game genre | Role Playing |
| Compatible with | Android 5.0 and up, iOS 10.0 or later |
| Price | Free |
| Get it on | DOWNLOAD for PC, Mobile |
List of Honkai Star Rail Codes (November 2023)
In Honkai Star Rail there are many different characters for you to experience, if you want to get a few of your favorite characters, you will need a lot of Stellar Jades. This is the currency in this game which is the Primogems version of Star Rail and allows you to purchase the Star Rail Pass and the Star Rail Special Card needed to Warp new characters.
You have come to the right place! Honkai Star Rail Codes in the list below will give you a lot of different gifts and especially, they are completely free.
2T7BP4JVEBT7 – three adventure logs, two condensed aethers, three cosmic fried rice, 5k credits
STARRAILGIFT – 50 stellar jade, 10k credits, two traveler's guides, and five bottled soda
HSRVER10XEDLFE – 50 Stellar Jade, 10,000 Credit
HSRGRANDOPEN1 – 100 Stellar Jade, 50,000 Credit
HSRGRANDOPEN2 – 100 Stellar Jade, 5 Traveler's Guide
HSRGRANDOPEN3 – 100 Stellar Jade, 4 Refined Aether
With the above Honkai Star Rail Codes, you can log into the game and redeem Adventure logs, Condensed aethers, Stellar Jade, Credits, and many exclusive items. All these latest Honkai Star Rail codes will help you with your astral adventure.
However, keep an eye out for Honkai Star Rail Gift Codes, because they have an expiration date and can expire at any time. You should use the codes before they expire. Otherwise, you will miss out on these huge rewards.
We will also be updating daily with new Honkai Star Rail Codes to add to this list as soon as they are published. For that, you should follow us by pressing CTRL + D on your keyboard or using the "Add to Bookmarks" button on your mobile so you don't miss any new codes.
What are Honkai Star Rail Codes?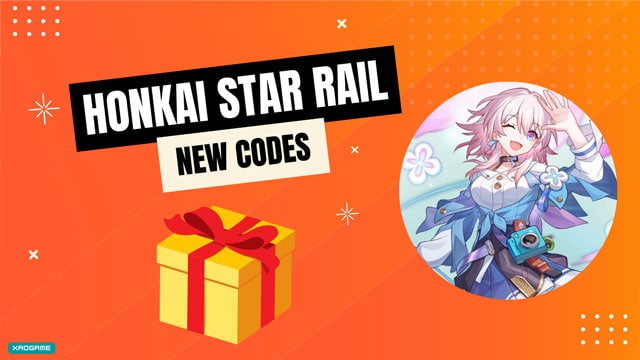 Honkai Star Rail are characters consisting of letters and numbers arranged together to form gift codes for you to exchange for Stellar Jade, Credits, or more in Honkai Star Rail. These codes will have a distinction between uppercase and lowercase letters, so when entering the code, you should pay attention to enter exactly according to the list that we have compiled in the list above.
Honkai Star Rail Codes are usually published by Hoyoverse publishers around events, game milestones, or live updates, which happen every six weeks for Genshin Impact, so it we hope to see them appear often in Honkai Star Rail.
Honkai Star Rail Codes will have a certain shelf life specified by the publisher from the moment they are published. However, we will not be able to know when they will expire. So, as soon as you receive these codes, you should log into the game and use them as soon as possible.
How long are Honkai Rail Star Codes valid?
How long are Honkai Rail Star Codes valid? Then depending on each code, it will have a different expiry date, it may be forever or it may also expire in just one day. So for the best, get the most gifts for yourself, I recommend that you use them as soon as you receive them.
How to redeem a code in Honkai Star Rail?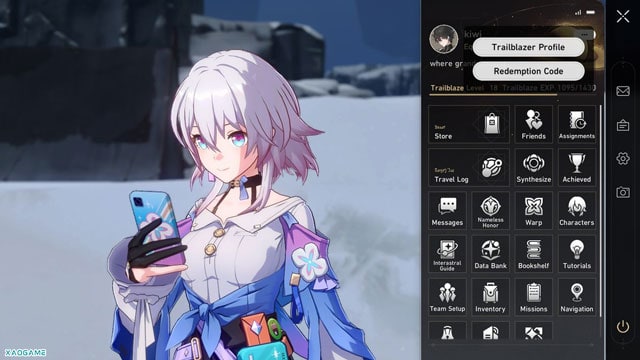 With Honkai Star Rail, you have 2 ways to redeem the code, which is to change the code right in the game and through the website to enter the code. Honkai Star Rail Codes Redeem is not too difficult to do, if you are not sure how to change the code, you can refer to the following instructions:
Step 1: Access Honkai Star Rail on your device and log in to your game account.
Step 2: Click on the Menu section then click on the 3 dots icon on the right side of the character avatar.
Step 3: Select the item Redemption Code and enter the game code above into the dialog box.
Step 4: Click the Confirm button to finish entering the game code.
Free items from Honkai Star Rail Codes will be sent directly to your in-game mailbox.
Instructions for entering the Honkai Star Rail code on the website
To enter the game code, players need to follow the steps below:
Step 1: Visit Honkai Star Rail's redemption link: https://hsr.hoyoverse.com/gift
Step 2: Proceed to log in to your game account.
Step 3: Select the game server, and character as well as enter the game code in the corresponding blank box.
Step 4: After checking the above information, click "Confirm Change" to complete entering the code.
The reward will then be sent to your in-game mailbox and you can claim it right away.
How to get more Honkai Star Rail Codes?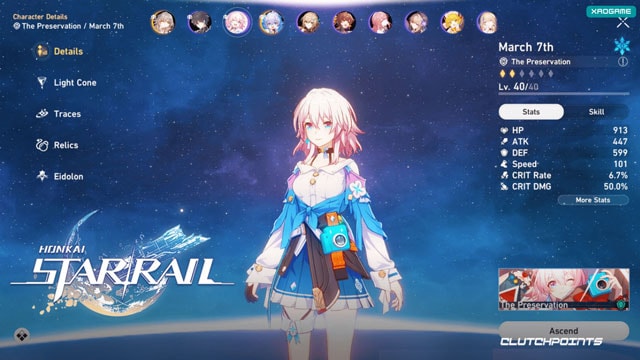 HoYoverse developers often publish new Honkai Star Rail Codes on special occasions such as events, festivals, partnerships, special events, and game milestones. Once published, the new Honkai Star Rail will be announced on social networking sites or the developer's website.
To get more Honkai Star Rail codes, you can follow the game's official social media accounts like Twitter, Facebook, Instagram, or Discord. Developers occasionally release new code on these platforms as a reward for players or to celebrate a special event.
You can also check out fan sites or forums dedicated to the game, as some users may share new code they've discovered. Alternatively, you can subscribe to the game's newsletter or join the game's official group to stay up to date with the latest news and events, which may include gift codes.
The best way for you to get new Honkai Star Rail Codes quickly is to follow GamePlayPlan.com: this is a website specializing in aggregating and providing codes, gift codes, and promo codes for many hot games currently. now. And certainly indispensable Honkai Star Rail. You can follow us to get the latest codes because we always update new codes daily.
Conclude
Above is the entire list of codes that we have found for Honkai Star Rail, wish you success and if you have any difficulties in the process, please let me know in the comments section below. Don't forget to share this article with your friends if you find it useful.