Immortal Awakening is a fighting role-playing game with a main storyline about the war between gods and demons. In Immortal Awakening, the strength of each character will be evaluated according to 5 main indicators: Survivability, Support, Mobility, DPS and CC. Based on those stats, GamePlayPlan will share Immortal Awakening Tier List, where we will make our assessment of which class is strongest and which class is weakest in the game.
Immortal Awakening Tier List (December 2023)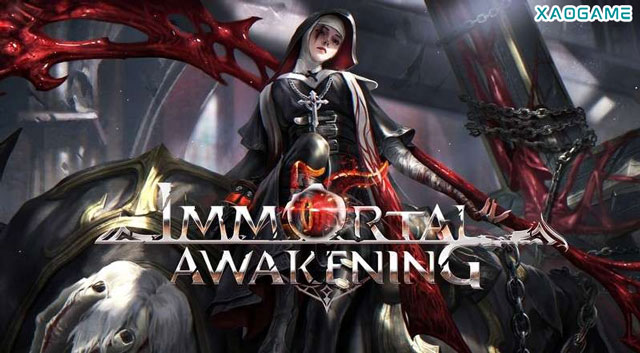 When playing Immortal Awakening, you will be able to choose a character from 4 different classes including Barbarian, Mage, Demon Hunter and Necromancer. Each class will have its own unique fighting skills, players can choose for themselves a suitable fighting style to stick with for a long time.
Remember that when building this tier list, GamePlayPlan will consider not only the inherent strengths and weaknesses of the class, but also their ease of use, as easier classes tend to be the strongest and most popular best in the game.
In addition, there is a way to help you improve your skills and abilities quickly by using Immortal Awakening Codes. Try to redeem these codes as soon as possible to get free blue diamonds, gold, topaz, vanguard, gem packs and other exclusive items for free.
| TIER | CLASSES |
| --- | --- |
| Strong (S) | Barbarian, Demon Hunter, Necromancer |
| Good (A) | Mage |
Immortal Awakening Tier List
Barbarian (Tier S)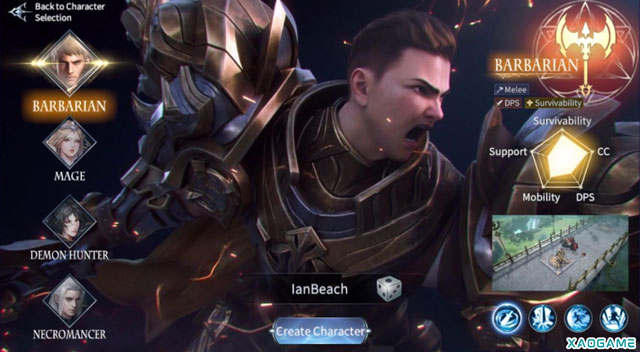 Our Immortal Awakening tier list will start with the Tier S – Barbarian. Barbarian have superior power over damage, making them the perfect choice for combining defense as well as damage. Even if you are a beginner in this game, Barbarian is not difficult to handle as he is much easier to use and the formidable CC that comes with it.
According to many players, Barbarian is a melee champion capable of confronting many enemies at the same time. The reason is that he has the ability to jump on them from a distance, and the rest of the fight will be handled by him turning around. So far, the Barbarian is considered one of the top units in the game.
Barbarian is not the strongest class in the game, but the combination of defensive skills with very good damage, as well as formidable control makes Barbarian one of the strongest and easy classes. most played in Immortal Awakening.
Plus, he's a melee hero who will constantly rush into battle and take down entire groups of enemies with his powerful sword swings, and that's the recipe to help you win battles. win against your opponent.
One negative aspect of Barbarian is that this class can be a bit similar and can make you feel a bit boring to play, which in itself isn't bad, but it's something to consider, especially if you like games. The class is a bit more technical and challenging to learn.
Barbarian Skills:
Spinning Slash – this is a spinning attack that applies eight times for all the nearby enemies and will give you 800% of the damage.
Savage Smash will make a barbarian quickly close the distance with the target.
Ancestral Rage – this attack can do decent damage at enemies for over 2 seconds and going to stun them too.
Battle Cry – this will make it 500% damage for all the nearest enemies, and with that, the barbarian will raise his HP for over 60 seconds up to 30%.
Demon Hunter (Tier S)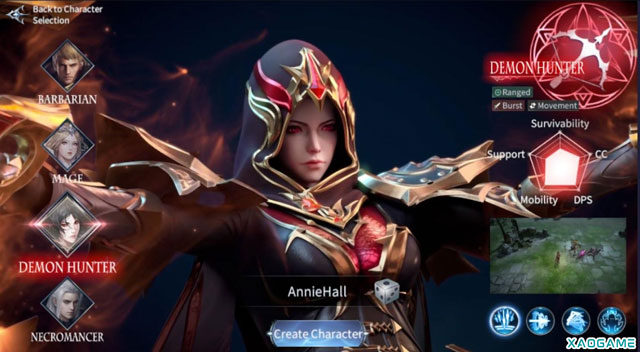 Demon Hunter is a character class with the best area damage in the game. Therefore, Demon Hunter belongs to Tier S in our Immortal Awakening Tier List. Demon Hunter is a perfect choice with the main DPS damage role in your squad.
If you're looking for the strongest physical DPS in the game and possibly the best PvP class, look no further than Demon Hunter. She has the ability to shoot from a distance and is very clever at using her double crossbow at long distances. If you're up for a challenge, go with Demon Hunter for your PVPs.
Demon Hunter has a strong skill set with a huge amount of AoE damage and tons of CC. Demon Hunter is by far the strongest physical DPS in the game, with a nice bonus that she can deal all of this damage from afar using her dual crossbow.
However, Demon Hunter's defense is very low so she seems to be inferior to Barbarians. She has a relatively large learning curve, which can complicate matters a bit. Therefore, we do not recommend this hero class for beginners.
Demon Hunter Skills:
Arrows of Vengeance – there will be a small area inflicting three hits, affecting all the enemies with 300% damage.
Evade – this skill will dodge Demon Hunter to forward, and it is going to raise his evasion of him for over 5 seconds. This is also increasing his speed of him by 30%
Spiralling Arrow – you get a 720% of damage with an attack applied in a cone here, and it is going to inflict six hits with this damage.
Shadow Punishment – all the nearby enemies will be getting a 500% of damage from this skill, and Demon Hunter will also increase his attacks for over 15 seconds by 20% here. All the nearby allies will also be buffed with this skill for over 10%.
Mage (Tier A)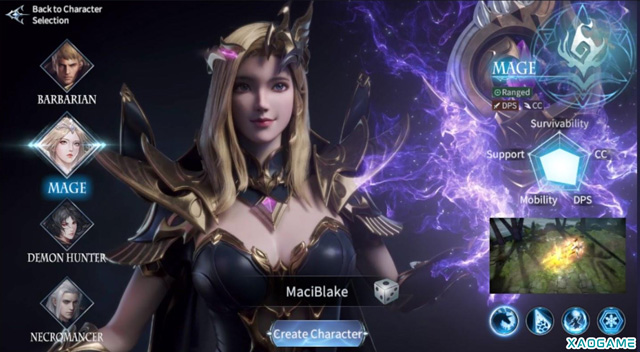 The third character class in Immortal Awakening Tier List will be Mage – Tier A. If you are looking for the best option in your AOE battles, look no further than Mage as that will be the wisest decision that you can make. you can give. The mage is a manipulator of magical powers, so this hero is well versed in spells.
With a skill set that revolves around powerful spells for both single-target and AoE applications, the Mage is one of the most powerful classes in the game, along with the Demon Hunter. The difference here is that the Mage deals only damage, while the Demon Hunter avoids her damage somewhat rather than adding more mobility to her set.
Mage is a class suitable for players who want to focus on dealing damage in a simple and understandable way. Mage has a very strong single-target skill, so it is very suitable for use in PvP battles. If you want a character that does a lot of damage, you should consider a Mage. And know that Mage will deal with damage in the easiest way you've ever seen.
Mage Skills:
Flaming Spirit – there will be seven hits that can deal up to 720% damage to the front enemies.
Meteor – you will be dealing with an area damage of 220% in here, and it can last for 1.5 seconds making your enemies stunned all over the period. When you use this skill, it can leave a blazing circle, and that will allow you to have 60% additional damage for over 3 seconds.
Front Armor – all the nearest enemies are going to be immediately with 500% of damage here. So it is also going to raise the defense for over 15 seconds by 20% in Mage, and it also raises the defense of all the nearest allies by 10%
Telepathy – you can teleport Mage for a short distance by using this skill, and it will inflict at enemies for 100%. This is going to raise the attack of Mage by 5 seconds.
Necromancer (Tier S)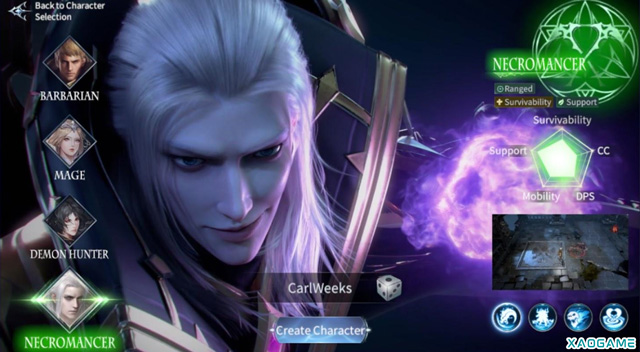 If you are a player who loves support champions with high healing and survival, then Necromancer is the right choice for you. And the reason we talk about him at the end of this Immortal Awakening Tier List is because in the game he lacks a lot of power and has very low damage.
While the Necromancer may be one of the weakest classes in terms of personal DPS, his incredibly high survivability and healing abilities make him nearly invincible in PvE, which helps him rank S in this tier list.
There is no significant DPS power like other classes, but Necromancer will still be useful in battles thanks to his healing ability. Because Necromancer skills all have the additional effect of healing. So being with him will be very helpful to regain your health.
This is not to mention his summoned goblin minion called minion golem. These are the things that help him deal massive damage while casting powerful spells on enemies. It can deal tons of damage while the Necromancer himself is standing in the distance attacking enemies with magic.
Necromancer Skills:
Soul of Bones – there will be a straight-lined 300% damage applied for all the enemies.
Soul Walk – by using this skill, Necromancer is going to teleport himself to a short distance for over 5 seconds with an increased defense. He will also take an HP regeneration here for the duration.
Frost Golem – an icy golem that comes with this skill will impact 500% of damage to all the enemies. This golem can attack your enemies, and each of his attacks will trigger frost nova which makes 150% of the damage. So it can also reduce the speed of your enemies for over 3 seconds by 30%
Cycle of Life – there will be 300% damage for all the nearest enemies here, and this skill will also draw a glyph from the ground. So it can heal all the allies, which will be similar to 1% from the maximum HP of Necromancer or over 5 seconds.
Conclude
This is all that GamePlayPlan has to offer you from this Immortal Awakening Tier List guide and we hope you have a chance to get the best of it by consulting this guide. Barbarians and Demon Hunters need to be at the top of your list in battle, and you'll know why if you check out this guide.