Max Speed is a speed racing game released by developer Team Hermes on the Roblox platform. In the game, you will control your character to participate in exciting car races to win rewards and victories. Crush your mouse or mobile device to speed up and become the best driver.
Are you looking for Max Speed Codes that actually work? You have come to the right place! Follow this article to get Max Speed gift codes, promo codes and learn how to activate Max Speed codes which can be redeemed for free in-game rewards. With these gift codes, GamePlayPlan believes that you will be able to progress quickly in the game.
Summary About Max Speed
| | |
| --- | --- |
| Name | Max Speed |
| Developer by | Team Hermes |
| Game genre | Racing |
| Compatible with | Android 5.0 and up, iOS 10.0 or later |
| Price | Free |
List of Max Speed codes (December 2023)
In this article, GamePlayPlan has listed all Max Speed codes including gift codes and promo codes, all of them are completely free. Follow this article to learn how to activate the Max Speed redemption code which can be redeemed for free boosts, trophies and other exclusive items.
Here is a list of new, active Max Speed codes for (December 2023):
BeFamous – 3x Trophies for 15 Minutes
Doubledown – 2x Luck for 15 Minutes
BigDay – Free Boosts & Rewards
RunForrestRun – Free Boosts & Rewards
FastNFurious – Free Boosts & Rewards
RoundyRunner – unlock in the vehicle section
Headlight – unlock in vehicles
RunForrestRun – free rewards
E-Scooter – unlock in vehicles
Red Express – unlock in vehicles
When the countdown ends, the race will begin and you need to drive as far as possible to upgrade your character. Buy some upgrades to increase your speed. And our Max Speed codes will provide upgrades, unlocks, luck x2 boosts and other free upgrades.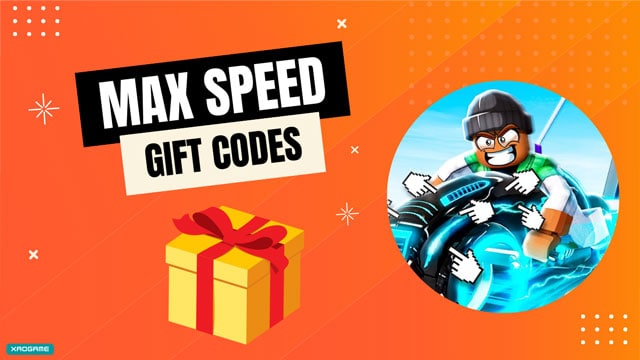 Free Max Speed codes are valid for a certain time, so you should be quick to enter them in the game. We regularly test and update new codes as they become available, so we recommend that you visit this page often.
What is Max Speed Code?
The Max Speed code can be a sequence of numbers. letters and special characters, they together form a code that you can enter into the Max Speed game to redeem a variety of free rewards. These can help you progress in the game and are usually released by the Hermes developer team after certain milestones are reached or with updates.
Max Speed codes include gift codes and promo codes. When it comes to these codes you will find that they often give you a bonus that makes it possible to progress faster in the game. These codes can only be used once per account, so make the most of them. You'll also want to use them quickly, as they can expire!
How do I redeem code in Max Speed?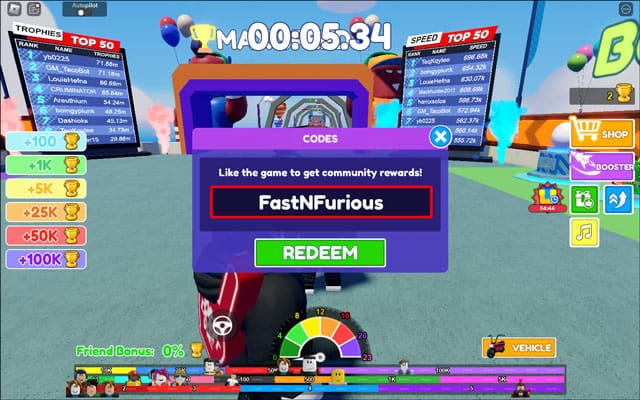 For some games, to redeem the code you must visit the game's redemption website and then enter the necessary information. Fortunately, Max Speed allows you to redeem codes right in the game's interface.
You are still not sure how to redeem the code in Max Speed. It's that simple, here's how you can use your redemption code in just a few steps:
Step 1: First, open the Max Speed game and log in to your account. At the main interface, click on the blue gift box icon on the right side of the screen.
Step 2: When the code input box is displayed, enter the code above and then press Change to proceed to change the code.
Step 3: On the screen will appear the reward that you received from redeeming the code.
So you have successfully changed the code in Max Speed. The rewards will be sent directly into the game. After successfully redeeming the code, start your upgrade and participate in races to show off your driving skills.
How to get more Max Speed codes?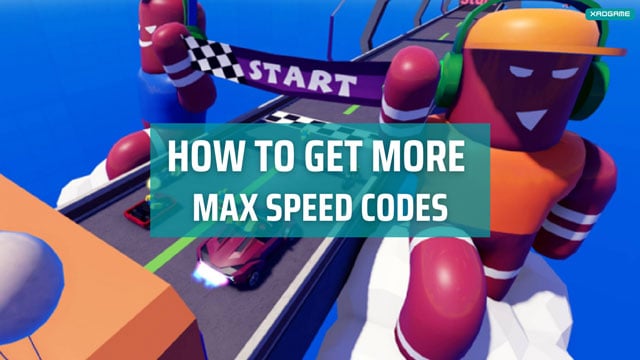 Looking for more information and get more Max Speed codes? There are lots of ideas for you to do this quickly. You can use the following ways:
Follow Max Speed official social media accounts: Game developers may publish new codes on their social media accounts, so make sure to follow them on platforms like Twitter, Facebook or Instagram.
Check community forums and websites: Players often share the codes they receive with other players on community forums or game-specific websites. Be sure to check these platforms to see if any new code has been shared.
Join clans: You can also join the Max Speed Roblox group and follow the game's official Twitter account to stay updated on any future code releases. Additionally, you can participate in the game's events and challenges to earn rewards and currency that can be used to upgrade your vehicles and progress in the game.
Get more codes at GamePlayPlan.com: GamePlayPlan is a website specializing in aggregating and providing codes, gift codes and promotion codes of many hot games today. Including games on the Roblox platform such as Anime Showdown, Fruit Warriors, Car Dealership Tycoon, etc.
Information about Max Speed
Max Speed is a racing game available on the Roblox platform. The game has received a lot of love from many players. In the game, you can customize and drive a variety of vehicles, including cars, motorcycles, and trucks. Because it is a racing game, the game's development will revolve around car races around the world.
The game has many tracks and environments, such as city, desert and beach. You can compete against each other in races or team up with friends to complete challenges and missions. When completing the game, you can earn money to upgrade your vehicles, unlock new tracks and buy cosmetic items.
The game features a variety of game modes, including Time Trial, Drag Race, and Loop Race. The game also features a VIP system where players can purchase VIP cards for exclusive rewards and bonuses. You can experience all of these modes and have a chance to become the number 1 racer in the world.
The races will be very intense and difficult with many obstacles. When the timer runs out, your race will end and you need to get as far as possible to upgrade your character. Buy yourself some upgrades and increase your speed. See if you can become the last racer in the world.
Overall, Max Speed is an engaging and fun game for players who enjoy racing games and vehicle customization. The game has a large and active community, with players from all over the world competing against each other for the top spot on the leaderboards.
Conclude
In the future, developer Team Hermes will publish more new and valuable Max Speed codes. GamePlayPlan will continuously update new codes as soon as they are published. So press CTRL + D on your keyboard or use the Add to Bookmarks button on mobile to follow us.