Outerplane is a mobile game in the Anime RPG genre with traditional turn-based gameplay. Coming to the game, you will experience a story full of fantasy colors, when your main character is suddenly transported from Earth to a completely foreign world. From here, your adventure journey with new friends officially begins.
While playing, sometimes you will encounter a difficult situation or get stuck somewhere. At that time, you will have to use some resources to upgrade characters, weapons, and equipment. At these times, you will need to use Outerplane Codes in exchange for free rewards. In this article, GamePlayPlan will summarize all the latest Outerplane Codes, in action in the list below.
Summary about Outerplane
| | |
| --- | --- |
| Name | Outerplane |
| Developer by | Smilegate Holdings |
| Game genre | Role Playing |
| Compatible with | Android 5.0 and up, iOS 9.0 or later |
| Price | Free |
| Get it on | Google Play |
List of Outerplane Codes (November 2023)
In the Outerplane, you must fight to defeat monsters, unlock new characters, and complete episodes as you explore the story. The game has a lot of different missions to offer, and this is also very interesting, giving you a lot of experience while playing.
Outerplane has been recently released by Smilegate Holdings and has been enjoyed by many players thanks to its breathtaking 3D graphics, interesting characters, interesting story and gameplay. When playing Outerplane, you will experience exciting, dramatic battles and build a team of your dreams.
In order not to waste your time searching, GamePlayPlan has compiled all active Outerplane Codes in the list below. You'll find Outerplane codes in this list, which make it easier to get started in the game or provide plenty of resources for you to compete against the top players.
OUTER1STPLANE – Enter this code to claim 1,500 Ether.
OUTERGAME30 – Enter this code to claim 300 Ether.
PLAYOUTERPLANE1 – Enter this code to claim 500 Ether.
PLAYOUTERPLANE2 – Enter this code to claim 120 Stamina and 20 Cake Slices.
LISHAGIFT – Enter this code to claim 60 Stamina and 20 Cake Slices.
OUTER1ST – Enter this code to claim1,500 ether
With Outerplane Codes, you can redeem them in the game's redemption center for Coins, Ether, Stamina, Cake Slices and many other free items. All of these are necessary items and resources for you to upgrade your squad and progress quickly in the game.
Although the number of Outerplane Gift Codes is still quite small at the moment, more new gift codes will be published in the future and we will add them to this list as soon as they become available. So follow this article and visit often to get the latest Outerplane Codes.
What are Outerplane Codes?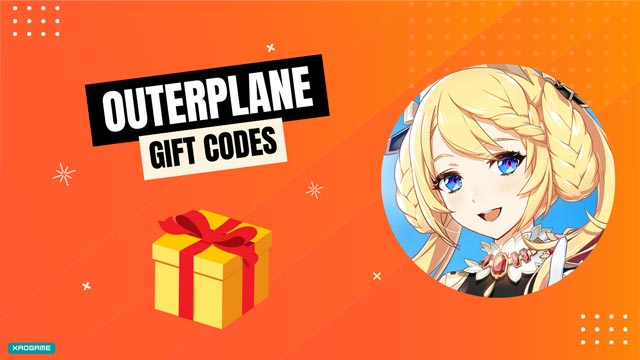 Outerplane Codes are not just random strings of letters and numbers; They are also the key for you to unlock the treasure trove of in-game rewards. Through the game's redemption center, you can redeem these codes for free but incredibly valuable rewards.
Developer Smilegate Megaport releases Outerplane Codes at the time of the launch of updates, events, and holidays. Gifted to both new and loyal players, Outerplane Codes are the game's developer's way of expressing gratitude and communicating the game to more players.
Rewards from Outerplane Codes can be Coin, Ether, Stamina, Cake Slices or many other free items. From valuable resources to strengthen your team, to the best heroes to be added to your squad. That makes it possible for you to compete with the top players.
However, you will never know how long these codes are valid. Only the publisher knows that because when the Outerplane Codes were published, they had a preset expiration date. Therefore, time is of the essence in Outerplane. If you do not want to miss the opportunity to receive many rewards, you should log into the game as soon as possible to redeem the code.
How to redeem code in Outerplane?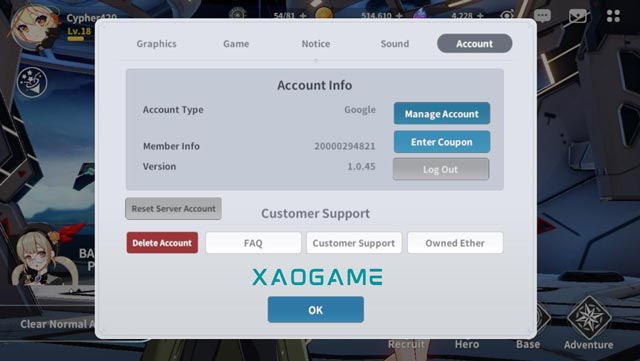 The game was released recently and the developers made the right decision they added a code system. It not only motivates players to play and follow the developer, but also helps fans when they get stuck somewhere.
Like other games, Outerplane also has a code redemption center in the game interface. So you can easily redeem the code in the Outerplane. However, it is worth noting that if a player enters the game for the first time, to enter the above codes, he or she will go through the first fight. Therefore, you should check out the instructions on how to redeem the code in the Outerplane below:
Step 1: First, you need to open the game and start logging in your character.
Step 2: Then, on the main screen, find the three dots located at the top right and tap on them.
Step 3: Find the Settings option and tap on it. Then find the Account option and tap on it.
Step 4: Find the "Enter Coupon" button and tap it.
Step 5: Redeem the code in the "Enter coupon number" field and click OK.
That's it! You have successfully redeemed your code in Outerplane. Enjoy the rewards and make the most of them to enhance your gameplay experience. Remember to keep an eye out for new codes in the future, as they can provide you with valuable resources and benefits.
How to get more Outerplane Codes?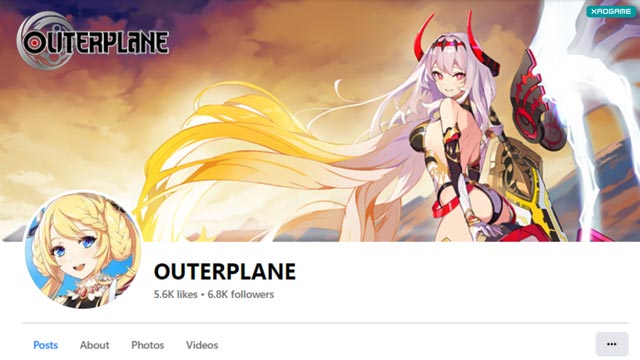 In order to attract more players, developer Smilegate Holdings often releases Outerplane codes on special event occasions. While most of these codes are reserved for game updates, events and milestones as well as feature enhancements as a bonus.
Once released, the new Outerplane Codes will be announced on their social media to communicate the game and pay tribute to those who are playing the game. Some developers will place them directly in the description or images to notify players when they are available.
If you want to receive more Outerplane Codes, you can follow the game's social media channels or website such as Facebook, Twitter, Instagram, Youtube, Reddit or Discord. You can get new gift codes by regularly visiting their social media.
Official Community Page: https://page.onstove.com/outerplane/en
Website: https://outerplane.game.onstove.com/
Twitter: https://twitter.com/outerplane
Facebook: https://www.facebook.com/OUTERPLANEGLOBAL/
Discord: https://discord.gg/xUcrH7H8jA
The best way for you to get new Outerplane Codes the fastest is to follow GamePlayPlan and visit this article regularly. Because we will update the Outerplane Codes list in this article every time new code is released. This way, you will never miss a single reward. In addition, you can also receive more gift codes of other games on GamePlayPlan Codes.
How to play Outerplane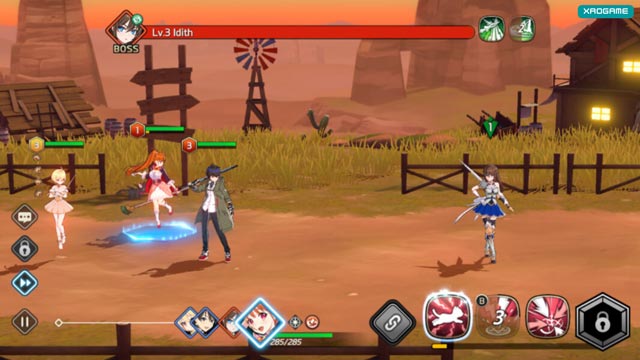 Outerplane is a beautiful anime-style strategy RPG experience. You will pick and receive a 3 star hero through Start Dash, you get an additional 3 star hero by completing Tutorial missions. From there, you will participate in various events for in-game rewards.
The highlight of the game is strategic matches, testing your abilities in strategy-based combat. You will have to find a way to turn the tide of the battle with your smart moves, from there, you are immersed in colorful and exciting cutscenes.
The game not only owns a beautiful 3D graphics with unique anime-styled characters, but also gives you a diverse character class system, with countless types of strategic formations. can build.
The tactical element in the Outerplane is also enhanced with a rotating counter-element system with 5 systems: water, fire, plants, light and darkness. Therefore, in order to win in PVE or PVP battles, gamers need to pay attention to observe the opponent's squad and make appropriate counter options.
The game will challenge your abilities in strategy-based combat! Turn the tide of battle with your smart moves! Experience unparalleled action with a variety of different compositions and multiple combo attacks to unleash your enemies! Immerse yourself in colorful and exciting cutscenes!
Conclude
You have now received the Outerplane Codes, along with our guide on how to redeem the code and how to get more Outerplane Codes. In general, with the Outerplane Codes, you can exchange a lot of Coins, Ether, Stamina, Cake Slices and many other free items to advance quickly in the game. Remember to use these codes as soon as possible before they expire.