You are looking for the latest and valid Poo Tycoon Codes, Poo Tycoon Gift codes to redeem for free in-game rewards. Don't worry because you have come to the right place. In this article, we have compiled and updated the latest, valid Poo Tycoon Codes to send to you.
Poo Tycoon Codes List
The following is a list of Poo Tycoon Codes that GamePlayPlan has compiled from the information channels of the ROBLOX developer. These gift codes are constantly updated by us to send to you as soon as possible. With Poo Tycoon Codes, you can redeem free items like cash boosters.
NewYears: 15 minute Poobux Boost (New)
HALLOWEEN: 10 minute 2x Cash Boost
BIGPOO: 2x Poobux Boost
10THOUSAND: 10 minute 2x Cash Boost
1MILLION: 20 minutes 2x Cash Boost
CoolPoo: 10 minutes 2x Cash Boost
3FLOORS: 10 minutes 2x Cash Boost
mushroom: 5 minutes 2x Cash Boost
BOX7: 10 minutes 2x Cash Boost
IdidApoop: 10 minutes 2x Cash Boost
BOX7Disc: 10 minutes 2x Cash Boost
5MIL: 10 minute 2x Cash Boost
If you're a fan of Poo Tycoon, then you know that codes are a great way to get some amazing rewards in the game. However, it's important to remember that these codes do have an expiry date. That's why it's crucial that you enter them as soon as you get your hands on them.
To stay on top of the latest Poo Tycoon news and updates, I recommend that you check the game's official news channels frequently. This way, you'll always be in the loop when it comes to the latest codes and rewards. Don't miss out on any of the amazing rewards that Poo Tycoon has to offer! Keep an eye on those codes and enter them as soon as possible.
How to redeem Poo Tycoon codes?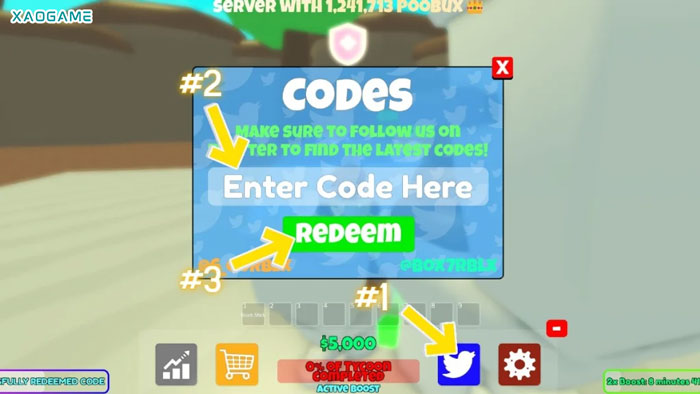 If you do not know how to redeem Poo Tycoon Codes, you can refer to and follow the instructions below.
Step 1: Open the game Poo Tycoon on your device.
Step 2: Click on the Twitter icon in the bottom corner of the phone screen. At this point, a new window will appear.
Step 3: Copy the Code in the list that we have provided above into the "Enter Code Here" box.
Step 4: Click the "Redeem" button to redeem the reward successfully.
The rewards will be sent to your mailbox in the game. Open your mailbox and get valuable rewards.
What are Poo Tycoon codes?
As you all know, Poo Tycoon Codes are gift codes used to redeem free items and cash in the game. These items, cash will support you a lot in Poo Tycoon in terms of finance or items.
So whether you are a beginner or have been playing Poo Tycoon for a while, redeeming these codes can make a big difference! In addition, they will make your progress much faster.
Most of the Poo Tycoon Codes that we provide will support you to increase the speed of making money faster in the game. Remember to redeem them before you start earning if you want to get yourself to the top of the leaderboard.
How to get Poo Tycoon codes?
To get Poo Tycoon Codes, you can follow the official Roblox developer information pages like Facebook, Twitter, Discord. Also, you can follow this page to get the fastest Poo Tycoon Codes. Using them as quickly as possible once they are published will be the best way because you never know when they will expire.
You can also save this address to Bookmarks on your device for quick access at any time. Follow GamePlayPlan continuously to update the earliest Poo Tycoon Codes!
Description of Poo Tycoon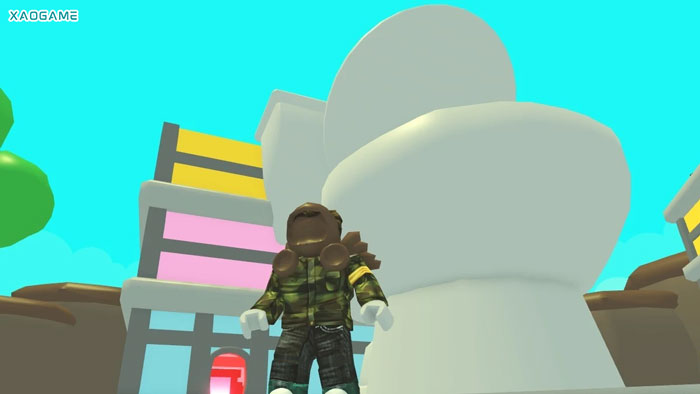 If you're looking for a fun and silly game to play in Roblox, Poo Tycoon might be right up your alley! In this game, you get to create and sell all sorts of different types of Poo, and as you progress, you'll unlock even rarer types that are worth more and more Poobux.
In Poo Tycoon, you get to become a poo and create different types of it to sell and earn money. The better the poo, the more money you can earn. To become the best, you can team up with your friends and fight till the end. And if you're looking to gain an edge over your competitors, there are active Poo Tycoon codes that give you exclusive items and benefits for free.
Choose your favourite Morph, Play as a Poo in Poo Tycoon today! This Comedy Tycoon is perfect for all ages! Battle your friends, fight to the end! By using these codes, you can make your gameplay more impactful and enjoyable. So make sure to follow the guide and redeem these codes as soon as possible to gain the upper hand in Poo Tycoon.
The more Poobux you have, the better you'll be able to build and upgrade your extraction devices, defenses, and weapons. Who knows why people in the game are buying your Poo, but you might as well make the most of it and become the richest tycoon around! So, what are you waiting for? Get started on your Poo Tycoon adventure today!
How to play Poo Tycoon?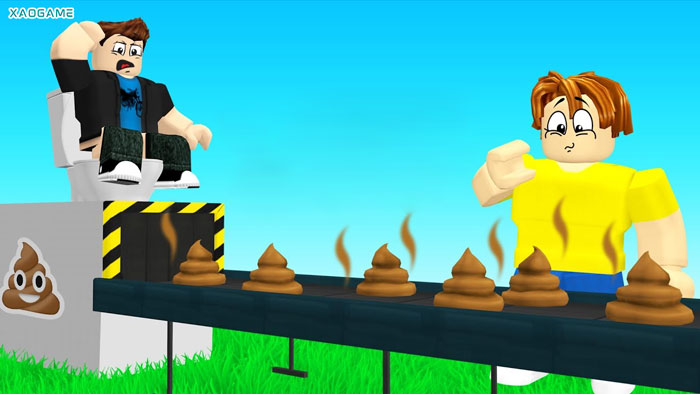 In Poo Tycoon, you are tasked with an unusual mission of becoming rich through the extraction and sale of poo. It may sound odd, but it's a unique challenge that requires you to extract and sell as much poo as possible. You start by building an extraction device, which allows you to dig deep and collect poo to sell for Poobux.
The more poo you extract and sell, the more Poobux you will earn, enabling you to purchase better defenses, weapons, and more advanced extraction devices. You need to strategize and plan your moves carefully to dominate the market and outdo your competitors.
In Poo Tycoon, you're always competing with other tycoon owners, so you must use your skills to defeat them and rise to the top. Only then can you be the ultimate Poo Tycoon and earn the respect and admiration of your fellow players. So, what are you waiting for? Start digging and selling poo and become the richest Poo Tycoon out there!
Frequently Asked Question
Why aren't my Poo Tycoon codes working?
Your Poo Tycoon Codes is not working there are many reasons. It is possible that you entered one or several characters incorrectly. Or that code does not exist or has expired. You can refer to the Poo Tycoon Codes that we mentioned above to enter!
When will the new Poo Tycoon Codes be available?
We always keep a close eye on the official Roblox developer pages to compile and update this article as quickly as possible so you don't miss your chance to get free rewards.
Where can I find more codes for Poo Tycoon?
To find more Poo Tycoon Codes, you can follow Roblox's official information pages like Facebook, Twitter, Discord, Instagram. In addition, we also quickly update the latest codes to send to you in this article. So please save this website address in your bookmarks to keep track of the latest codes compiled by us.
Conclusion
Poo Tycoon is a fun and silly game that helps you have great entertainment moments. With the Poo Tycoon Codes that we compiled above, you will be able to redeem free items such as cash boosters. Please share with your friends if they are also looking for Poo Tycoon Codes like you!