Sword Master Story is an action role-playing game that is loved by players around the world. Your mission is to strategically deploy heroes of 4 different classes and 5 different attributes to win the battle! So choosing a suitable and strong hero is very important. In this guide, we will share with you the Sword Master Story Tier List to help you make the best choices for your squad.
About Sword Master Story
Sword Master Story is a game set in a mythical world and you will be a talented Great Sword Master. With super attractive role-playing genre and automatic play mode will surely make gamers extremely excited. Players can freely recruit other characters to their team.
You are the one chosen to come up with a strategy to defend your territory. At the same time, connect more with players in other Clans to increase the enjoyment of playing the game. Characters in the game in addition to being promoted can also regenerate. Gameplay will also bring some special features that make gaming more enjoyable.
You will experience adventures and exploration in places such as: Endless Vault, Gold Vault, Demon King Tower. Later, the expeditions became more attractive and diverse. This helps stimulate the desire to overcome challenges and find new things.
You also have the opportunity to attack the Boss and become a super talented Grand Swordsman. Content difficulty will increase as you reach new levels. The game often has interesting battles and events, so it will not be boring when playing for a long time.
When playing the game, you can regenerate and expand the character to increase strength. At the same time, skins and accessories also help you increase your ability stats. Therefore, you need to pay attention to collecting more items and resources. The system also possesses more than 50 types of weapons and armor to increase the potential power. This is an opportunity for players to expand their inner strength. This is considered a great investment that the game makes for players.
Sword Master Story Tier List (November 2023)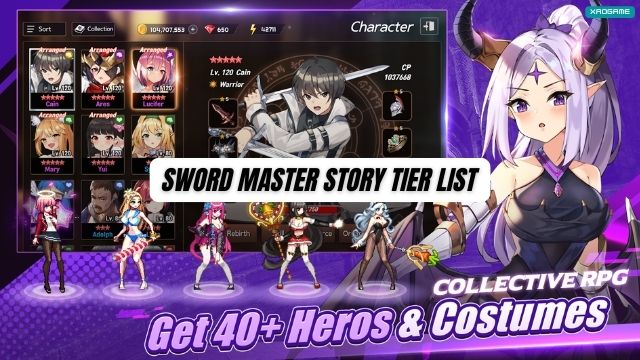 Sword Master Story has the appearance of more than 40 heroes with shapes from the gods. With different ranks, these heroes also have different powers. You will rely on skill stats to arrange the squad accordingly. The more new heroes you collect, the more your chances of winning will increase.
However, it is not necessary to collect many heroes to win because it depends on how strong the heroes you own are. If you own the S-rank heroes in the list below, congratulations, your squad is very strong and it can defeat a lot of opponents.
That's why this hierarchical list will be so important to you. The information in this guide will help you make the right choices when building your ideal team. Also don't forget to follow us to receive the latest information about Sword Master Story.
Read more: Guide of Magic Stone Knights Tier List
To understand which is the best character, follow the list of ranks below. In this list, we will rank characters from high to low through various evaluation criteria. Because each character has their own strengths and weaknesses, we'll break down the characters and rank them from tier S (best) to tier C (worst). This way you will find your best companions. In there:
Tier S: are the best characters of the game and these are the strongest OP characters. Tier S characters are characters that you must have or should own. If you own a tier S character, don't hesitate to prioritize upgrading them if you can.
Tier A: Tier A characters are also considered good characters and can be substituted for Tier S characters if you have a hard time getting them. although not so OP, they can do great in most stages and game types including PVP.
Tier B: tier B characters can be easily found in the game. Although not the best characters, they will be very useful for you for the starting stage.
Tier C: The strength of tier C characters is just average. These characters are viable for some stages of the game but it will take a lot of resources and effort to make them strong.
| | |
| --- | --- |
| Tier | Characters |
| S | Mia, Psyche, Eros, Zeus, Kana, Ariel, Rosie, Megumin, Yui, Cain, Lilith. Dark Lord, Odin, Mary, Efreet, Ymir, Rachael, Ais, Darkness, Ryu, Airi |
| A | Aqua, Aina, Lucifer, Theseus, Kalisia, Lugrant, Dark, Artemis, Athena |
| B | Cayron, Gaia, Joan of Arc, Hestia, Lyn, Vivian, Ares, Belphegor |
| C | Iris, Johan, Chaos, Hippolyts, Sylvia, Alice, Sophia, Medea, Robin, Adolph, Lena, Bella, Medusa, Rina, Chloe, Nike, Ananke, Hera, Ceres, Merlin, Eve |
Sword Master Story Tier List – Tier S
Mia – Warrior
Psyche – Archer
Eros – Archer
Zeus – Mage
Kana – Archer
Ariel – Warrior
Rosie – Mage
Megumin – Mage
Yui – Healer
Cain – Warrior
Lilith – Mage
Dark Lord – Mage
Odin – Healer
Mary – Archer
Efreet – Warrior
Ymir – Mage
Rachael – Healer
Darkness – Mage
Airi – Warrior
Sword Master Story Tier List – Tier A
Aina – Mage
Lucifer – Mage
Theseus – Warrior
Kalisia – Mage
Lugrant – Mage
Dark – Mage
Artemis – Archer
Athena – Mage
Sword Master Story Tier List – Tier B
Cayron – Archer
Gaia – Archer
Joan of Arc – Mage
Hestia – Warrior
Lyn – Warrior
Vivian – Warrior
Ares – Warrior
Belphegor – Warrior
Sword Master Story Tier List – Tier C
Iris – Healer
Johan – Healer
Chaos – Warrior
Hippolyta – Warrior
Sylvia – Archer
Alice – Archer
Sophia- Mage
Medea – Mage
Robin- Archer
Adolph – Archer
Lena – Mage
Bella – Warrior
Medusa – Mage
Rina – Archer
Chloe – Healer
Nike – Archer
Ananke – Mage
Hera – Mage
Ceres – Mage
Merlin – Mage
Eve – Archer
Conclude
In the future, more new characters will be released, so we will try to update this Sword Master Story Tier List with new heroes as soon as possible. We recommend that you follow up regularly so as not to miss the latest information. If you want to refer to some more rank lists or find codes, gift codes of many role-playing games, you can get them here.