Da Piece is a great adventure game on the Roblox platform with the theme of beloved anime characters. The game will take you on a wild adventure with familiar characters from the One series. Piece. You will play as a pirate or Marine in the world of One Piece. "Power up yourself by completing quests and killing enemies.
To get more resources and upgrade your character faster, you can use the Da Piece codes released by the developer. In this article, GamePlayPlan has compiled the whole thing and listed the new Da Piece codes that actually work. You can also refer to how to enter the code and how to get more Da Piece code.
Summary About Da piece
| | |
| --- | --- |
| Name | Da Piece |
| Developer by | Roblox |
| Game genre | Adventure |
| Compatible with | Android 5.0 and up, iOS 10.0 or later |
| Price | Free |
List of Da Piece Codes (December 2023)
In this article, GamePlayPlan has compiled and listed all Da Piece codes including gift codes and promo codes, all of them are completely free. Follow this article to learn how to activate redemption code "Piece Skins that can be redeemed for free boosts, trophies and other exclusive items.
From today, you won't need to search for Da Piece codes anywhere anymore. Because we have compiled and listed all the gift codes available in this list. Here is a list of new, live Da Piece codes for (December 2023):
S3A_B3ASTS – 30k beli
L3GENDARY_FRU1T – small exp reward
BLOX_FRUITS – 15 minutes of double exp
C0NFUSEDLUFFY – beli
CHARM1NGSANJ1 – skill reset
P0VMAU1 – beli
SYRUPV1LLAG3 – 15,000 beli
L1TTL3GARD3N – 50,000 beli
DRUM1SLAND – stat reset
BR00KSB0N3S – double exp
B0SSK0BY – double exp
J0YB0Y – stat reset
R0BLUCC1AFURRY – double exp
2KL1KESWOOOHOOO – double exp
K1NG0FP1RAT3Z – 50,000 Beli
B1GMERA – stat reset
YAM1YAM1 – double exp
NEWUPDAT30N3 – stat reset
0N3P13C3 – 10,000 Beli
G0LDG0LDG0LD – 25,000 Beli
PH03N1X – stat reset
NAM1SG0LD – 30,000 Beli
US0PPSN0SE – stat reset
EV1LMAR1NE – stat reset
G0LD3NP1RAT3 – weapon with skill
B0SSP1RATE – skill points reset
TREASUR3 – skill points reset
1KL1K3SYEAH – 10k cash
M0NK3YDLUFFY – skill point reset
AC3 – 5,000 cash
G0LDR0G3R – 1,000 exp
K1NGTANK13 – rewards
B1GR3S3T – stat reset
With our Piece Skin codes you can use to redeem beli, XP, boosts, free resets and other exclusive items. These rewards will help you level up your character fast than.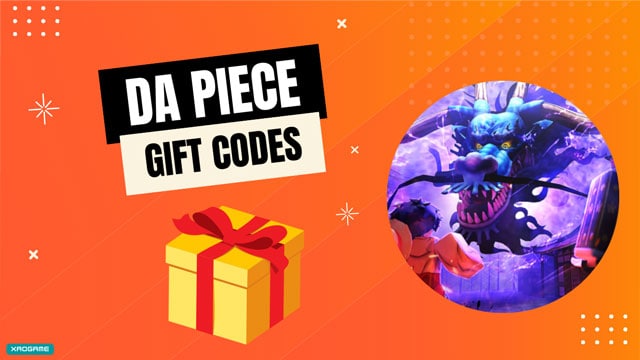 Free Skin Piece codes will have a certain validity period depending on the developer's rules. For that, you'll want to make sure to use them as soon as possible, as the codes expire after a period of time. We regularly check and update new codes, so we recommend that you visit this page often.
What is Da Piece Code?
The Da Piece Code is a free gift from the developer Handsome Studios to help you on your ocean exploration. Handsome Studios often releases new code to celebrate new updates or when a game hits a certain milestone.
Da Piece Code is a piece of characters including letters, numbers and possibly special characters. These codes will distinguish between lowercase and uppercase letters. The order of the Da Piece code can be random or follow a certain rule.
The Da Piece Code will give you various rewards that help you progress faster in the game. The bonuses include beli name, XP, boost, free reset, etc. These resources allow you to level up quickly and upgrade your character.
To avoid any mistakes, please make sure you enter your in-game redemption code as shown in the table we listed above, consisting of unique characters and lowercase letters (upper & lowercase).
How to redeem Code in Da Piece Code?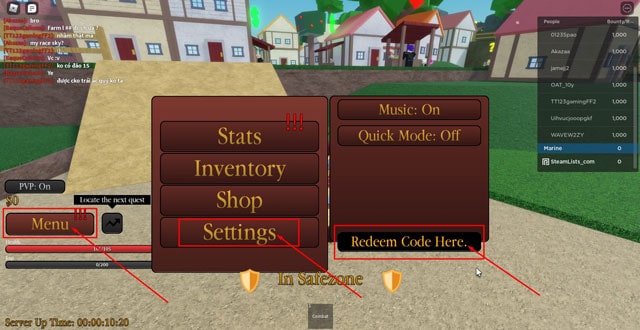 Roblox Da Piece has a redemption center right in the game's interface, so you won't need to visit the redemption site anymore. Now you can redeem the code in Da Piece quickly and easily with the following steps:
Step 1: Go to Roblox to find and choose the mode to play Da Piece.
Step 2: Next in the game interface, click on the menu and select settings.
Step 3: Finally enter the code from our list above and press enter on the keyboard.
When entering the Da Piece codes, you should ensure that you have correctly entered the codes listed in our listing. If you type them in yourself, you may find that they are faulty. This could be because the code is case sensitive or you made a typo. If you have entered correctly and still have an error message, please let us know in the comment section so we can update it again.
How to get more Da Piece codes?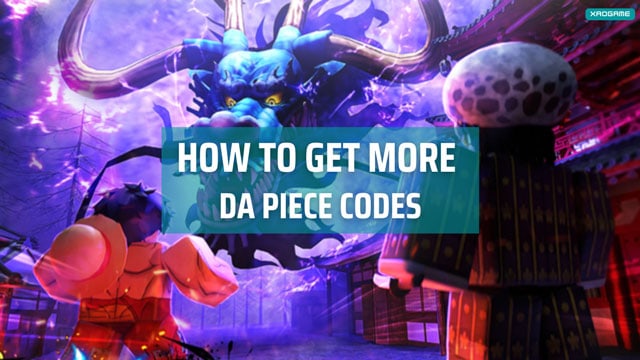 Developers Handsome Studios often publish special codes on special occasions such as milestones, milestones, partnerships, and special events. Roblox Da Piece redemption codes are released on many of the game's social media channels such as Twitter, Roblox team, Youtube, Reddit and Discord. You can take advantage of this to get more Da Piece codes.
You can also earn rewards and currency by completing quests and leveling up your character in the game. These rewards can be used to upgrade equipment, unlock new abilities, and progress in the game.
In addition, another way for you to receive more Da Piece codes is to follow GamePlayPlan.com. GamePlayPlan is a website specializing in aggregating and providing codes, gift codes and promotion codes of many hot games today. Including games on the Roblox platform such as Max Speed, Xeno Online 3, Tank Legends, etc. You can follow this website to receive the latest codes, because we always update new codes every day.
Information about Da Piece
Da Piece is a popular Roblox game inspired by the popular manga and anime series "One Piece". It was created by the group called "The Gang of Stockholm" and has gained a large fanbase of the series.
Da Piece is an exciting adventure game where you play as a Pirate or Marine in the One Piece world. To make yourself stronger, you have to upgrade yourself by completing quests and killing enemies. That will give you plenty of resources and in-game currency to buy items and upgrades.
Finding Devil Fruits will give you special abilities that you can use to hunt down other players. See if you can become the best player in the world and rule the seas in this One Piece themed game.
The game allows you to choose a character from the "One Piece" universe and go on an adventure to become the ultimate pirate. You can explore a vast and detailed world, fight enemies and bosses, collect loot and upgrade your abilities.
Da Skin Piece has a unique combat system that allows players to use a variety of weapons and abilities to defeat their enemies. The game also allows you to cooperate with other players to form teams, which can then compete with other teams in battles.
As you progress in the game, you can level up your character, unlock new abilities and equipment, and customize your appearance with different outfits and accessories. Overall, Da Piece is a fun and engaging game for fans of the "One Piece" series and anyone who enjoys exploring, fighting, and customizing in Roblox games.
Conclude
So all the information about the Da Piece code and the instructions on how to enter the code, get more new code has been shared by GamePlayPlan within the framework of this article. If you want to receive more gift codes, promotional codes of many other games, please refer to our website.