Dragonheir Silent Gods is an exciting multiverse exploration role-playing game on mobile devices from developer Nuverse Games. When participating in the game, players will have the opportunity to participate in the journey through many different dimensions and search for ancient powers to fight evil forces.
Dragonheir Silent Gods has a diverse hero system with many beautiful designs and different fighting styles. Therefore, this will make it a bit difficult for you to choose the appropriate hero for your team. In this Dragonheir Silent Gods Tier List guide, Gameplayplan will help you find the best, most suitable hero choice.
Introducing Dragonheir Silent Gods
Dragonheir: Silent Gods is an open-world fantasy RPG that lets you control over 200 heroes. In a multiverse adventure, you'll experience strategic combat like never before, where every action counts, and every decision can be the difference between victory and defeat.
Each journey in Dragonheir Silent Gods will have completely new content and context so players don't get bored. Players will always discover new and interesting things in new adventures. Every week the game will also have a number of weekly activities and events for players to receive many valuable rewards such as treasure hunting, puzzles, and participating in a drinking contest or a cooking competition.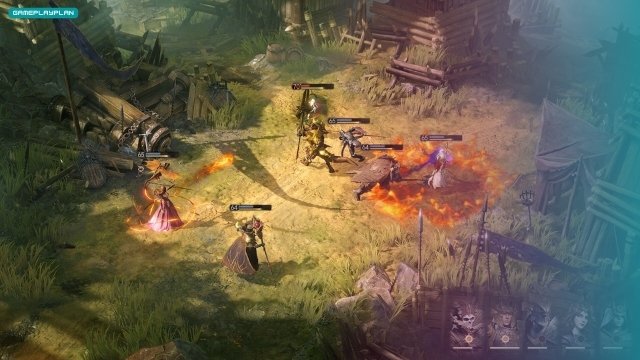 Not only do dice play an important role in combat, but they also enhance gameplay and add a bit of luck to every situation adventurers may encounter such as theft, negotiations, drinking competitions, and more again. Shape your story hero any way you want.
Dragonheir Silent Gods not only possesses a vast cosmic setting but also marks the return of famous developers who created the famous card game Marvel Snap. Dragonheir: Silent Gods promises to bring players unlimited experiences in a unique fantasy world.
The game's gameplay system is built quite similar to chess and uses dice to make important strategic decisions in the journey of exploration and combat. Gamers can also participate in cooperative PvE modes and combine strength with other adventurers to face difficult challenges.
Dragonheir Silent Gods Tier List – All Ranking
Players will start by choosing one of four basic character classes: Warrior, Thief, Performer, and Scholar. You can then create your own character image based on customizations in appearance and attributes. The game also introduces more than 200 different heroes with unique powers and skills, always ready for you to recruit and accompany you on your multiverse journey.
Each character in Dragonheir Silent Gods has different unique abilities, fighting skills, and attributes. There are many ways to build a squad, you can build your own style or follow our suggestions with the squad building guide in Dragonheir Silent Gods Guide Hero Development.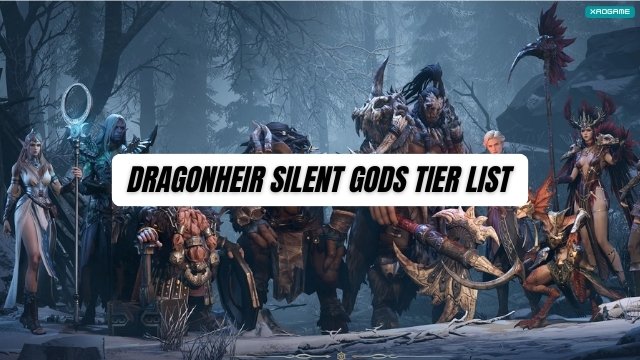 Different build options mean endless possibilities to customize your team members to ensure your crew stands out. Your unique set of powers will also play a key role in recruiting some of them to join your team.
In this guide, we will provide a list of heroes in the game with a power ranking from high to low. In this Dragonheir Silent Gods Tier List, we will divide all heroes into different levels based on many different factors. Some basic factors are rarity, stats, active and passive abilities, and adaptability in different content.
We will rank the characters in the game by considering their strength, rarity, and versatility in each battle. The rankings will be divided into 5 different tiers and each tier will have a group of heroes appearing in it.
Dragonheir Silent Gods Tier List – Tier S
Tier S heroes are the best characters in Dragonheir Silent Gods. They are the heroes who hold the best skills and abilities, and if you decide to upgrade one of them, it will be the right choice. They are the ones with the highest basic stats and skills and can help you win the game easily. These characters all possess outstanding skills, are easy to combine into teams, and all have powerful and powerful skills.
Premtsa
Ghul'ende
Voresh
Lucien
Trolgar
Nastjenka
Donella
Lelwanis
Thelendor
Hvitar
Lossenia
Errich
Flora
Dragonheir Silent Gods Tier List – Tier A
Tier A heroes are characters with good base stats. Even though tier-A heroes aren't the best, they're still great choices for any squad. These characters possess the ability to deal strong damage and contribute a lot to your squad. These characters are still enough for you to win, as long as you can combine the team properly and know how to enhance their strength.
Tamar
Sutha
Alton
Philto
Lorentheel
Huberg
Auster
Hochadir
Ripekas
Alfie
Frurbath
Vicuc
Dragonheir Silent Gods Tier List – Tier B
Heroes in tier B are usually characters that are easy to meet when you play the game. Although not among the best characters, they provide many important benefits in the early stages of the game. Compared to heroes in tier S or A, characters in tier B are often weaker, possibly for many different reasons.
This is mainly because they often take on support roles and rely heavily on resources for growth. However, tier B heroes are still a reliable choice for your team. They strike a good balance between offense and defense, with reliable skills.
Philto
Acilia
Gillian
Mithrasea
Eurion
Felosia
Garius
Gitouna
Gardrus
Rava
Zhar'loth
Usha
Dragonheir Silent Gods Tier List – Tier C
Tier C heroes have average strength and are only suitable and useful in the early stages of the game. Although they do not stand out in terms of damage output, they are highly appreciated for their ability to control crowds or support teammates. Characters in this class may seem weaker than higher-level characters, however, they can still become very useful in the early stages of the game.
Garett
Adventurer – Ice
Oggok
Grishnaar
Sagomir
Irzillas
Berengar
Dane
Tonalnan
Horace
Eches
Nimbus
Rowena
Questa
Lorarii
Eli
Sigrid
Irina
Rephe
Tioh
Dragonheir Silent Gods Tier List – Tier D
Tier D heroes can be called the weakest tier, but we are not saying that they are not useful. They are used in our game and would be ideal to use in your game as a beginner with a little effort. Because they don't have much strength, only poor skills.
As soon as you get a better hero, it's best not to keep them in the squad. Investing in them may not yield the desired combat power, so focus on upgrading your stronger heroes instead.
Tharivol
Sutha
Journ
Zeffi
Vinyara
Horrus
Caraman
Corrin
Sifris
Shink
Theodore
Shagrol
Schaltar
Iola
Thurnus
Naguk
Nimbus
Nathaniel
Shook
Hegio
Martina
Catherine
Duling
Gruum
Dorkuraz
Olgan
Isitarian
Deverick
Heksandra
Gerana
Meggan
Eleuia
Vasska
Who are the Best Heroes in the Dragonheir Silent Gods Tier List?
Best Heroes is the perfect choice for you when you are looking for heroes for your team. If you are looking to get outstanding performance from the power of heroes, you should see information about the best, best heroes in the list below.
Nastjenka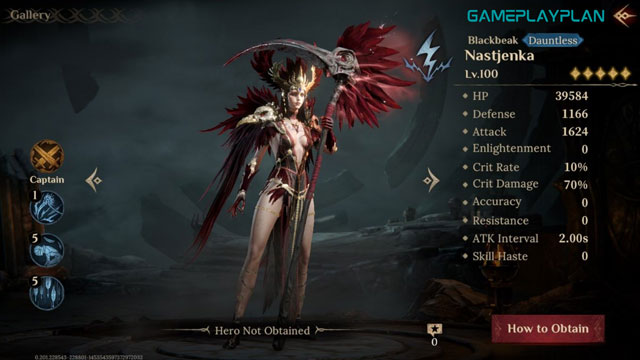 Nastjenka, a rare legendary hero, belongs to the Dauntless clan. Her ultimate ability "Wild Beak" will create lightning bolts and damage enemies within its range. For the next 10 seconds, whenever an ally makes a basic attack, there is a 40% chance that Nastjenka will fire a feather at the target, dealing additional lightning damage. This next attack is considered a base attack and is amplified for Dauntless heroes, who have a double chance to activate this effect.
Hvitar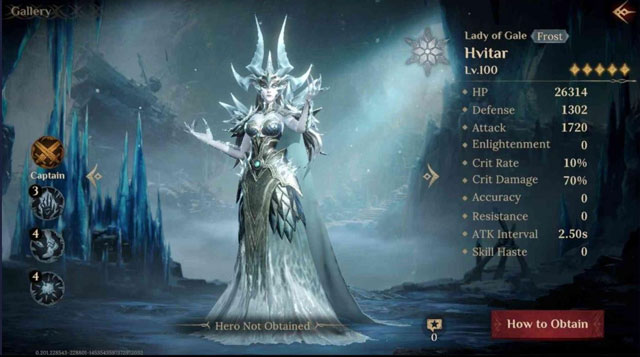 Hvitar is a heroine of the Frost clan and she is one of the best heroes in Dragonheir Silent Gods. Hvitar's skill can change the weather for over 15 seconds and she is capable of dealing massive damage to enemies with icy blizzards.
Hvitar is a hero capable of dealing with ranged damage, and her passive skill is what makes her the best among others. She can increase an ally's attack by 45% so the chances of winning battles with her in hand are higher.
Thelendor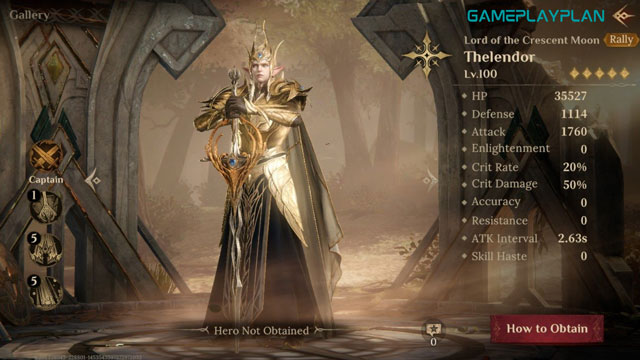 Thelendor is a legendary hero of the Rally clan. Thelendor's ultimate skill is "Luna Punishment" which will release a rain of moonlight for 6 seconds, summoning a beam of light every 0.3 seconds to attack random enemies on the battlefield, dealing Radiant damage. Casts up to 6 beams of moonlight onto a single target. When casting spells, Thelendor will consume Rally and reduce the cooldown time of moonlight rays by 30%. At this time, he can channel up to 9 rays of moonlight into a single target.
Flora
Flora is a legendary hero of the Wild race and she is a great fire mage. She can create a fire aura around the target and it lasts for 10 seconds. During this phase, targeted enemies will take increasingly more fire damage from wild allies. Possessing Flora in your squad will help you destroy many enemies quickly.
Errich
Another legendary hero from the Wild clan on the list of the best heroes in Dragonheir Silent Gods is Errich. He has the ability to summon meteors and deal fire damage to random enemies by attacking a specific area. If you want to kill many enemies at once, this will be the best hero to choose.
Conclude
So you have received all the information related to Dragonheir Silent Gods Tier List and the necessary instructions when starting to get acquainted with the game. Also, don't forget to follow us regularly to update the latest tier list information. In addition, in the future, the developer will update more new characters and weapons and this list may change.