Last Ultima is a role-playing game in the MMORPG genre recently launched by NEOCRAFT LIMITED and loved by many players. In the game, players will explore immersive environments filled with mysteries, quests, and challenges. Along with that are strong and versatile characters.
You will have to choose a character to accompany you through all the challenges of the game. That is very important, so you must clearly understand the strength of each hero in the game. That's why we want to share with you this guide to the Last Ultima Tier List. Let's see who is the strongest hero in the game!
Information about Last Ultima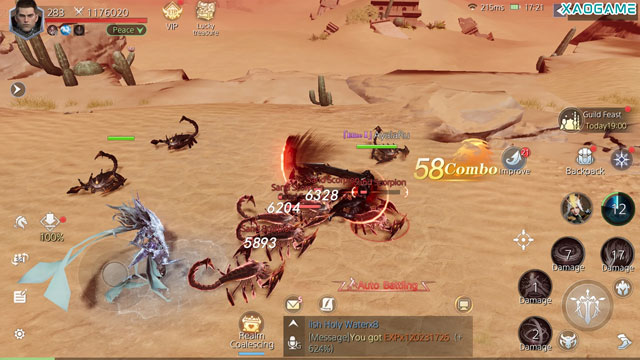 The plot of the game is quite simple. A world is at risk of destruction because the sleeping boss Chaos Demon Dragon is about to awaken. Faced with this existential threat, the remaining consciousnesses of the ancient gods have come to you. People who can change destiny as well as protect the peace of the multiverse. You will have to find a way to discover the secret of the magic crystal, and at the same time stop the progress of the Chaos Demon Dragon.
An interesting point is that at first you can only control 4 characters: Assassin, Warrior, Mage and Gunner. However, when officially launched, players can control a new character, Death. Each character has its own advantages and disadvantages shown by the stat bar to the right of the character. You can rely on the stats to choose a character that suits your playing style.
Last Ultima is designed with extremely vivid 3D graphics with a freely changing 360-degree viewing angle. Starting the game, players can also customize the character's face with unlimited options and create their own unique character.
In addition, players will have the opportunity to capture a variety of pets and combat companions, each with their own skills and powers to support and protect you on your journey. Last Ultima also offers mounts of all shapes, sizes and colors that increase your movement speed and make adventures more exciting.
In addition, gamers can also experience fun entertaining games with the guild and receive unexpected rewards. Experiencing the difficulty of guild wars and World Bosses are difficult activities that not every gamer can do alone.
Last Ultima Tier List – All Ranking
When starting Last Ultima, you must choose a character to continue the journey. In the game's introduction there are 5 main roles and you can choose one of them.
You can choose any of them to continue the game. Depending on the character role you choose, the fighting style will be different. The techniques you use in battles must match the fighting style of your character's role. So, choose a role that suits the play style you want to follow throughout the game.
In this Last Ultima Tier List, we will divide different Espers into different levels, according to various factors. Some of the core factors taken into account when creating this tier list are base rarity, base stats, active and passive abilities, and adaptability in different content.
We will rank the characters in the game by considering their strength, rarity, and versatility in each battle. The rankings will be divided into 3 different tiers and each tier will have a group of heroes appearing in it.
Last Ultima Tier List – Tier S
Tier S heroes are the best characters in Last Ultima. They are the heroes who hold the best skills and abilities, and if you decide to upgrade one of them, it will be the right choice. They are the ones with the highest basic stats and skills and can help you win the game easily. These characters all possess outstanding skills, are easy to combine into teams, and all have powerful and powerful skills. In addition, the rarity of tier S heroes is SSR.
Nuwa
Light Saintess
Fushi
Capricorn
Nekotama
Related Game: Loop Dungeon Idle RPG Tier List – Best Team
Last Ultima Tier List – Tier A
Tier A heroes are characters with good base stats. Even though tier A heroes are not the best, they are still great choices for any squad. These characters possess the ability to deal strong damage and contribute a lot to your squad. These characters are still enough for you to win, as long as you can combine the team properly and know how to enhance their strength. In addition, the rarity of tier A heroes is SR.
Frost Goliath
Siren Princess
Dragon Blader
Tripod Raven
Last Ultima Tier List – Tier B
Tier B heroes can be called the weakest tier, but we are not saying that they are not useful. They are used in our game and would be ideal to use in your game as a beginner with a little effort. Because they don't have much strength, only poor skills.
As soon as you get a better hero, it's best not to keep them in the squad. Investing in them may not yield the desired combat power, so focus on upgrading your stronger heroes instead. In addition, the rarity of tier B heroes is R.
Rune Golem
Harpy
Steel Shieldwall
Best Heroes in Last Ultima Tier List
Nuwa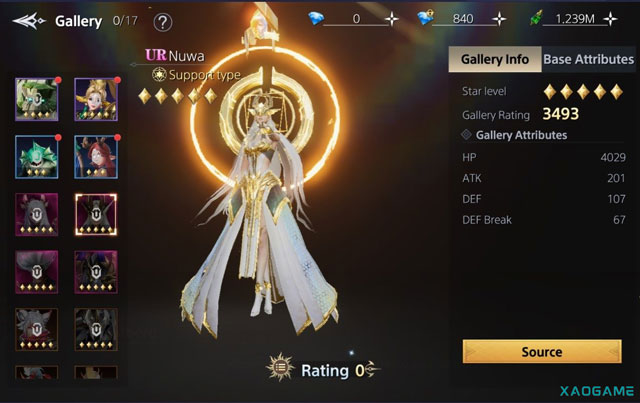 Nuwa is a 5-star UR rare Esper classified as Support type. Her rating is 3493. Nuwa's ultimate ability Skystone Impact says when Nuwa throws her skystone to summon the primordial magic circle, creating several golden chains to immobilize enemies for 2 turns , then Fushi rushes out and uses Genesis Fist to attack the opponent repeatedly, dealing a total of 3552% super attack damage + 355.2% damage to the player. Cooldown time is 15 seconds.
Fushi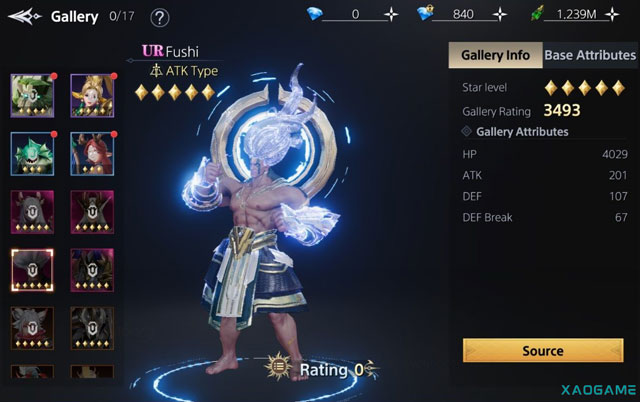 Fushi is a 5-star UR rare Esper classified as an Attack type. His rating is 3493. Fushi's Ultimate Ability Fushi's divinity descends from the sky, dealing 3948% +364.7% war spirit damage to the player to nearby enemies. And encouraging allies, nearby allies' damage reduction increases by 10%, increases war spirit attack by 440%, and lasts for 2 seconds. Cooldown time is 15 seconds.
Capricorn
Capricorn is a 5-star UR rare Esper classified as an Attack type. His rating is 3493. Capricorn Hellsprite Volley's ultimate ability will pull the bow upward to fire arrows at high speed and continuously rain arrows down on a large area in front of it, causing total plus 3924% Esper attack damage + 392.4% player damage; Every time an enemy hits an arrow, there is a 30% chance of being stunned for 1 second. And the more arrows the enemy hits, the higher the damage received from the Capricorn esper, up to 100%.
Dragon Blader
Dragon Blader is an offensive character of the rare SSR type and has a 5-star rating. The Dragon Blader is one of the best offensive units in this game, capable of dealing massive damage to enemies with a single attack. Possessing Dragon Blader in your squad will help you defeat all opponents in a blink of an eye and win easily.
Conclude
So you have received all the information related to Last Ultima Tier List and the necessary instructions when starting to get acquainted with the game. Also, don't forget to follow us regularly to update the latest tier list information. In addition, in the future, the developer will update more new characters and weapons and this list may change.